Getting to Know the Member Dashboard
All members have their own Member Dashboard, which was created automatically when they joined. The Member Dashboard includes everything needed to access classes — schedule, Zoom links, video recordings, recommended readings, class slideshows — plus, an events calendar, account information, and more. 
How to Access Your Dashboard
Log into your OLLI account by clicking "Log In" in the menu; or
If you're already logged into your account, but browsing elsewhere on the site, click "My Dashboard" in the top blue menu.

Not sure if you're logged in? If you see "Log Out" in the menu (rather than "Log In"), you're logged in.
How to Find What You Need:
Zoom links are posted in "My Schedule" under the course title. Each course has its own unique link.
Videos and reading materials are posted in "Course Materials" under the course title — click the button to access.

Videos post each Friday while classes are in session, and remain available to view and enjoy until the end of term.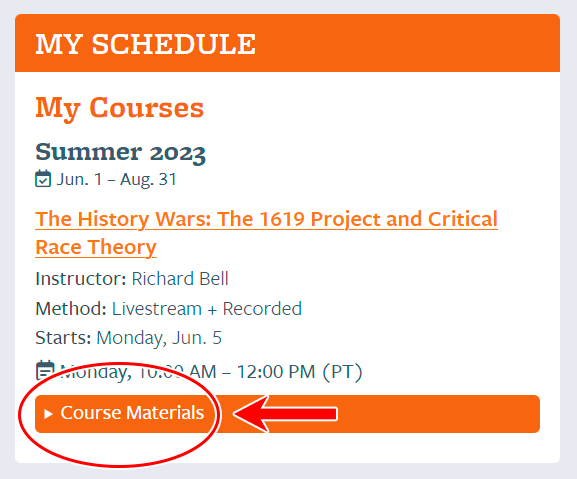 How to Sign Up for Events
The "Upcoming Events" section of the Member Dashboard provides an overview of all scheduled special events — both member-only and public.
To register for an event, click the title, which will take you to the registration page.
Once registered, the event will appear under "My Events" in the "My Schedule" section.
How to Reset Your Password 
Enter your user name (email) here and click "Log in."
You will see an error message. Click "Have you forgotten your password?"
Enter your email address and click "Email new password."
You will receive an email with further instructions. If you have not received the email within five minutes, please check your Spam folder.
/sites/default/files/styles/apb_slideshow/public/featured-image/2023/2h-media-cdDDWLezAJ0-unsplash_3.jpg?itok=BdWIWNbN
#003262